There's no question that Tanzania Safari Tours make a sensational impact on almost every visitor, whether it's their first trip to Tanzania or their twentieth. With more than a third of its vast area (bigger than France and Italy combined).
Set aside for the protection of species ranging from chimpanzees to elephants, and some of the world's greatest geological splendours gracing its landscapes – the Great Rift Valley, the Ngorongoro Crater, the Serengeti – it is no wonder that time and again, Expert Africa travellers choose Tanzania for a safari.
Wildlife In Your Tanzania Safari Tours
You'll have few problems spotting the more-prominent African animals in Tanzania, including lion, elephant, giraffe and buffalo. For big cats, you'll want to head to the Serengeti, while Ngorongoro Crater is where you want to be for a chance of seeing black rhino.
Other wildlife highlights include chimpanzee trekking, checking out African wild dogs, and being awestruck by the several million wildebeest, gazelle and zebra on their annual migration.
Best Time For Your Tanzania Tours
To see the incredible spectacle of the great migration, you need to visit during the Dry season (June to October). Wildlife watching across the country is also at a premium at this time.
That said, the northern-circuit parks still have productive game drives in the Wet season (November to May). And January and February is the time when wildebeest calving in the Serengeti attracts lots of predators.
Read: Best Time to Visit Tanzania
13 Best Tanzania Safari Tours in 2021
1. Mount Kilimanjaro Trekking – Machame Route.
This route, with its steep passages and higher altitudes, offers you occasional views of Mount Meru, Shira Ridge and Kibo summit as you make your way through lush rainforest, moorland and alpine desert.
The Machame Route, with its diverse landscape and fantastic views, offers a unique experience to test your will power, fitness finesse and mental strength. The route takes you through lush rainforest, where colobus monkeys roam, into heath and moorland, with its many ferns and ericas, until finally reaching the icy caps of the mountain top.
Overnights on the Machame Route will be in tents. It is not difficult to climb because you will be guided by professional tour guides.
Read: 12 Reasons To Climb Kilimanjaro Mountain In Tanzania 2021
2. Lake Manyara, Ngorongoro and Serengeti Safari.
This unforgettable Tanzanian safari journey will take you to the Ngorongoro Crater, featuring one of the highest concentrations of game in Africa. Here you will witness an amazing spectacle of African wildlife – inside a self-contained world teeming with animals.
The tour will further take you to the Serengeti National Park, into the heart of wild Africa, a massive wilderness of 14500 square km, where every day brings a new landscape and a new adventure. You will visit the Lake Manyara National Park, one of Tanzania's most dramatically located wildlife areas, consisting of a shallow but huge soda lake, at the foot of the Great Rift Valley's western escarpment.
3. Lake Manyara and Ngorongoro Safari
This unforgettable Tanzania safari will take you to the Ngorongoro Crater, featuring one of the highest concentrations of game in Africa. Here you will witness an amazing spectacle of African wildlife – inside a self-contained world, teeming with animals.
Your tour will also take you to the Lake Manyara National Park, one of Tanzania's most dramatically located wildlife areas, consisting of a shallow but huge soda lake, at the foot of the Great Rift Valley's western escarpment. The size of both the selected Lake Manyara and Ngorongoro Crater national parks, make them a perfect choice for our shorter safari.
4. Classic Bush Safari Adventure in Tanzania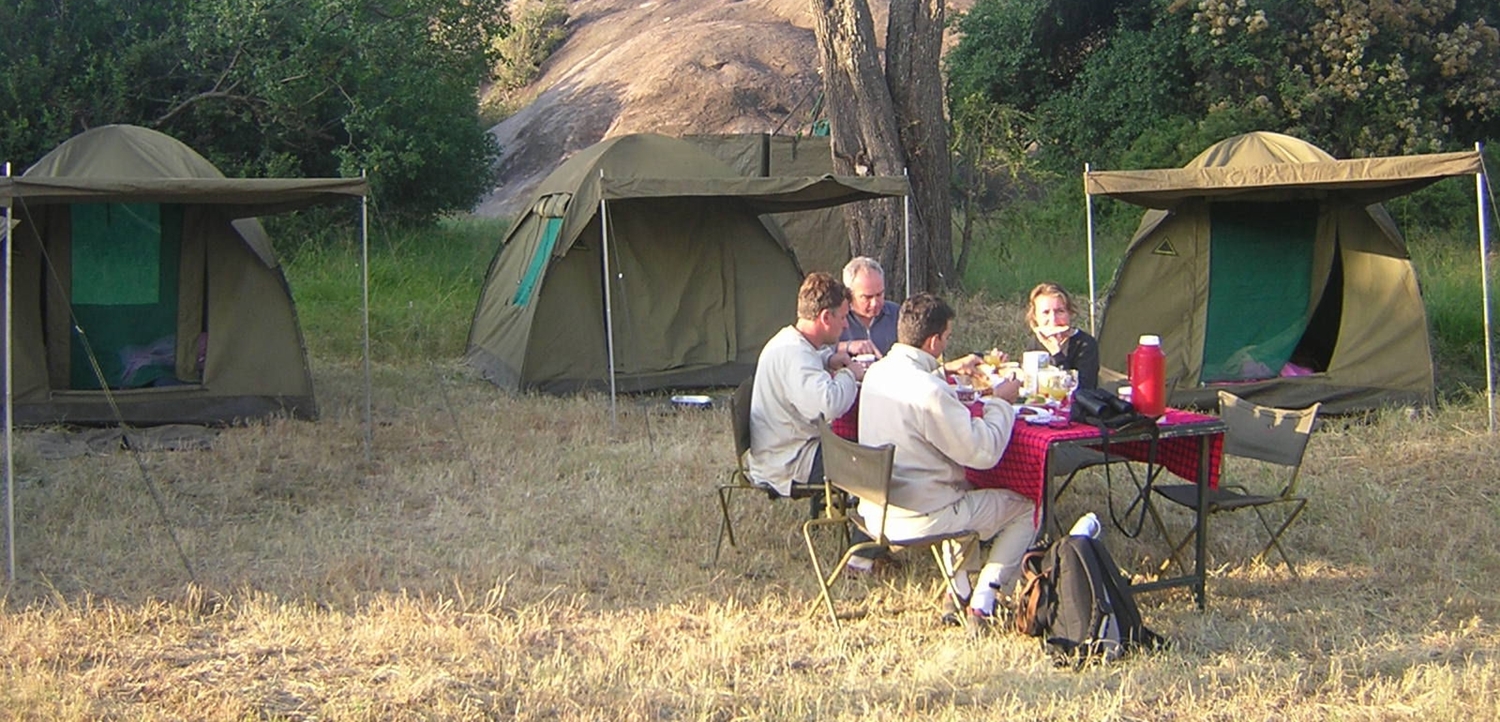 This safari is a combination of game-driving safaris through Tanzania Northern national parks, cultural destinations and unspoiled wilderness; give the first time visitor a true "Taste of the North."
Your nights will be spent under the stars in a mix of lodges, permanent tent camps, and mobile tented camp. Wake up in your own private camp in the heart of the Ngorongoro plains to the soft sound of Maasai cowbells as a new day begins over The Great Rift Valley.
This safari is designed to not only provide you with an exceptional opportunity to encounter the Big 5 but also to position you in the perfect spot to experience the Great Migration. This is a trip to Africa that truly has it all.
5. Tarangire, Ngorongoro Crater & Lake Manyara Safari
This unforgettable safari tour will take you to the Ngorongoro Crater, featuring one of the highest concentrations of game in Africa. Here you will witness an amazing spectacle of African wildlife – inside a self-contained world teeming with animals.
Your tour will also take you to the Lake Manyara National Park, one of Tanzania's most dramatically located wildlife areas, consisting of a shallow but huge soda lake, at the foot of the Great Rift Valley's western escarpment.
Finally, your safari tour will also take you to the Tarangire National Park, which features some of the greatest concentration of game in Tanzania – second only to the Ngorongoro Crater – but less crowded and unspoiled – possessing a wild beauty.
The size of the selected Ngorongoro Crater, Lake Manyara and Tarangire National Parks, make them a perfect choice for shorter safaris. You will experience the excitement of game viewing in three of the most spectacular national game parks in Tanzania.
6. Migration Safari: Spending a Week in the Wild
This safari is an awesome display of earth's greatest wildlife spectacle
Discover the Tarangire National Park, Ngorongoro Crater and the Serengeti
Check out the African Big 5
Get closer to nature.
This safari is an awesome display of nature with over two million wildebeests, zebras, and antelope travelling over 450 miles across the plain to ensure their survival, unaware that there's the danger presented by the stalking lions and cheetahs, among other predators.
The huge crocodiles of the Mara River also await as the herbivores prepare to cross the Mara river and enter into Masai Mara Game Reserve from Serengeti National Park.
This unique Week in the Wild tour lets you experience the best of African wildlife and allows you to see and enjoy the wild animals at their undisturbed best while keeping you close to man-made comforts and luxurious accommodation. Truly, this tour will be the best week of your life.
7. Adventure Camping Safari: Budget Style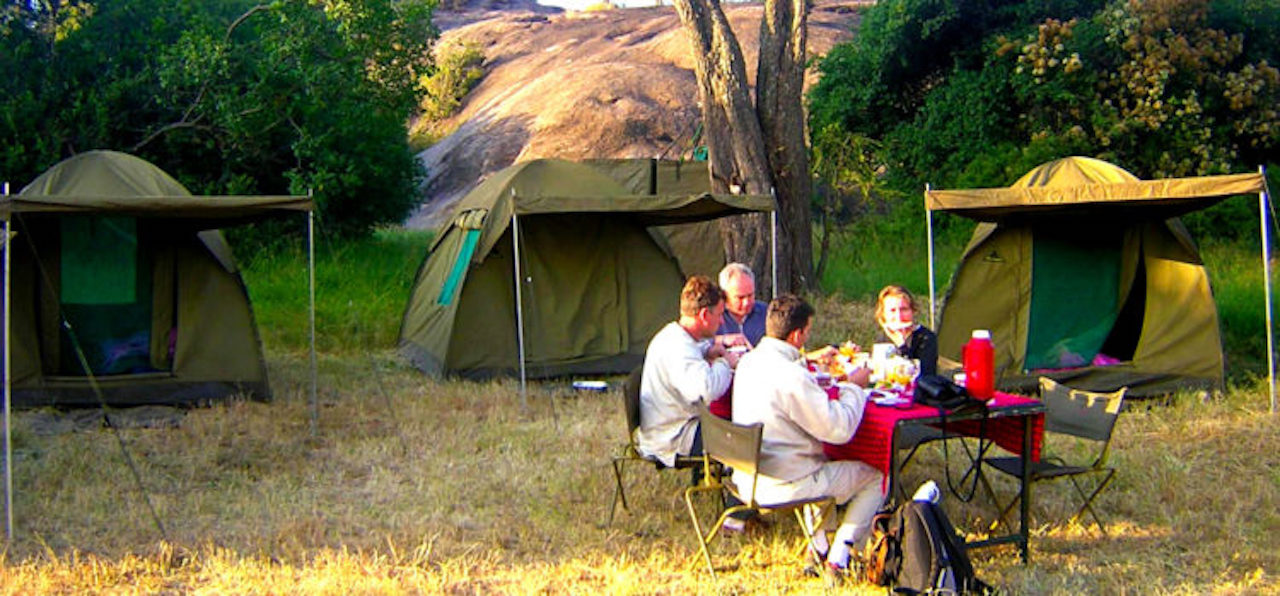 Tarangire National Park
Lake Manyara National Park
Serengeti National Park
Ngorongoro Crater
Want to experience "Wild Africa" in an authentic way? A camping safari is just for you! Tanzania Budget Camping Safari packages are the most pocket-friendly way of exploring the beauty and diversity of African wildlife. Many of our visitors choose to stay in tents in order to get closer to nature and stay within the National Parks' stunning landscapes.
Those who choose this option will have their tents assembled for them each evening and collapsed again in the morning by our staff, with the tents being packed away and stored on the vehicle, for use again the following evening.
Tanzania Budget Camping safaris are essentially rewarding experiences because visitors get to participate in an authentic African adventure while enjoying all services of safari drivers, guides, and a chef to take care of all their needs, preparing delicious food for breakfast, lunch and dinner.
8. Dar es salaam, Mikumi And Zanzibar Tour
Explore Dar es Salaam during a city tour
Go out on game drives in Mikumi National Park
Take a boat to Zanzibar, visit Stone Town and Prison Island
Enjoy a Spice tour of Zanzibar
From the sprawling metropolis of Dar es Salaam to the wildlife of Mikumi National Park and the beaches of Zanzibar, this tour will provide you with a comprehensive introduction to the country.
We will pick you up at JNI Airport and transfer you to your beach abode in Dar es Salaam. Go out on a city tour of the capital on the second day of the trip. Head for Mikumi National Park the day after that and enjoy four game drives in the reserve before heading for the final destination on your itinerary, Zanzibar, an island that was a popular trade transit in the past.
Visit the island's Stone Town and enjoy a spice tour (Zanzibar was renowned as a centre of the spice trade in the past) before catching a flight back to Dar es Salaam, from where you can take the flight back home.
9. Zanzibar Beach and Stone Town Tour
Bask in the white sun of Zanzibar beach
Interesting tours to the House of Wonders, Palace Museums, Mosques and Arab's Fort
Perfect trip to cap off your wildlife safari
Whether you're a romantic, a beach-bum or are just looking for the perfect way to end your wildlife safari, this exciting tour of Zanzibar, its exotic beaches and its soothing waters, is just perfect.
Zanzibar is located in the Indian Ocean, just 25 km off the coast of mainland Tanzania. It is famed for its historical Stone Town and some of the most stunning beaches on the planet. We will take you to interesting tours to the House of Wonders, Palace Museums, Mosques and Arab's Fort among many others.
You will also visit spice plantations, the reason that brought the Sultans of Oman, and what started the slave trade. Indulge in the white sands and clear waters of Kendwa Beach while basking in a cultural gem for a much deserved holiday.
10. Prison Island Boat Trip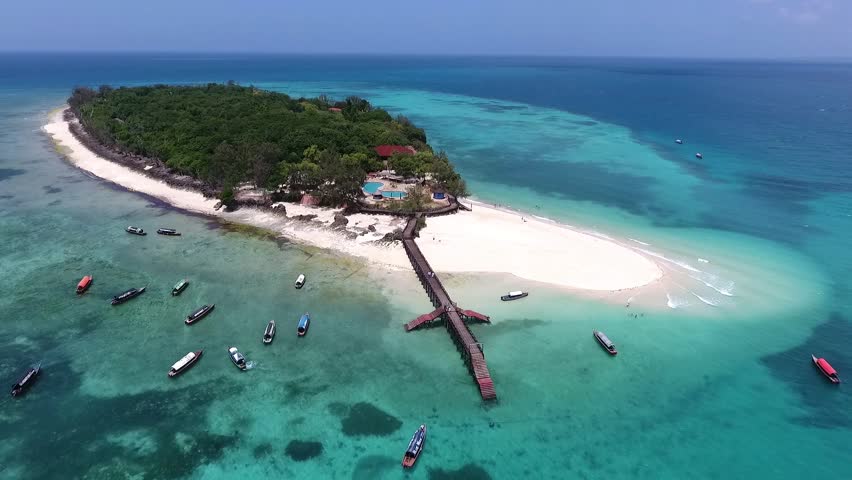 Take a boat from Stone Town to Prison Island
Encounter giant tortoises up close
Dive, snorkel or swim
Explore the old prison
This half-day tour via a short boat trip to Prison Island is simply paradise on earth. See the giant tortoises wandering around, escape for some peace and quiet and enjoy the coral reefs while snorkelling.
This historical Island was formerly owned by an Arab and used for the confinement of refractory slaves. In 1893, Lloyd Mathews built the prison, with the idea of sending violent criminals from the Tanganyika mainland to the island.
The Prison Island ended up being used as a quarantine centre, instead of a prison, for yellow fever epidemics that once raged through the region. Prison Island is still owned by the Zanzibar government.
The old prison still remains standing, providing shelter for the giant tortoises which are conserved on the Prison Island. You can walk in the quarantine centre and come face to face with these amazing creatures.
The island is a superb spot for the photographer. On this little paradise one can also swim, snorkel, sunbathe or just relax and enjoy the peacefulness that this beautiful island. It is fringed with a beautiful coral reef, ideal for snorkelling, and has a lovely white beach for sun-bathing.
This tour is a perfect half day-trip with refreshments available throughout the day. The island also has a small restaurant where you can enjoy simple meals. If you would like to stay longer and enjoy the beach and ocean, this is no problem!
11. Mikumi Short Safari from Dar es salaam
The fourth-largest national park in Tanzania is also one of its most popular ones. Easily accessed from Dar es Salaam, this park is incredibly famous for its guaranteed year-round sightings as well as picturesque sceneries.
The park has been named after a village representing the Borassus palm trees that once grew in the region. Two of the most popular attractions at Mikumi include the Hippo Pools and the Millennium. Both areas are ideal destinations for watching wildlife and both are sure to leave you squealing with delight.
Mikumi Safari is a short tour from Dar es Salaam that takes you to visit one of the most spectacular southern circuit National parks of Tanzania. The park hosts all kinds of animals as well as a variety of birds species and reptiles.
12. Nyerere National Park budget safari
The Nyerere National Park is one of the largest parks in the world, located in the south of Tanzania. It was formerly called "Selous Game Reserve before established as a National Park in 2019. This park was designated a UNESCO World Heritage Site in 1982 due to the diversity of its wildlife and undisturbed nature. A safari trip to this game reserve will allow you to get close to nature.
It is famous for its elephants, commonly seen are lions, wild dogs, buffaloes, bushbuck, impalas, elands, baboons, zebras, and greater kudus. It was initially set aside as a hunting area where animals are abundant but shyer than the Northern Parks.
13. Tanzania Southern Circuit Budget Safari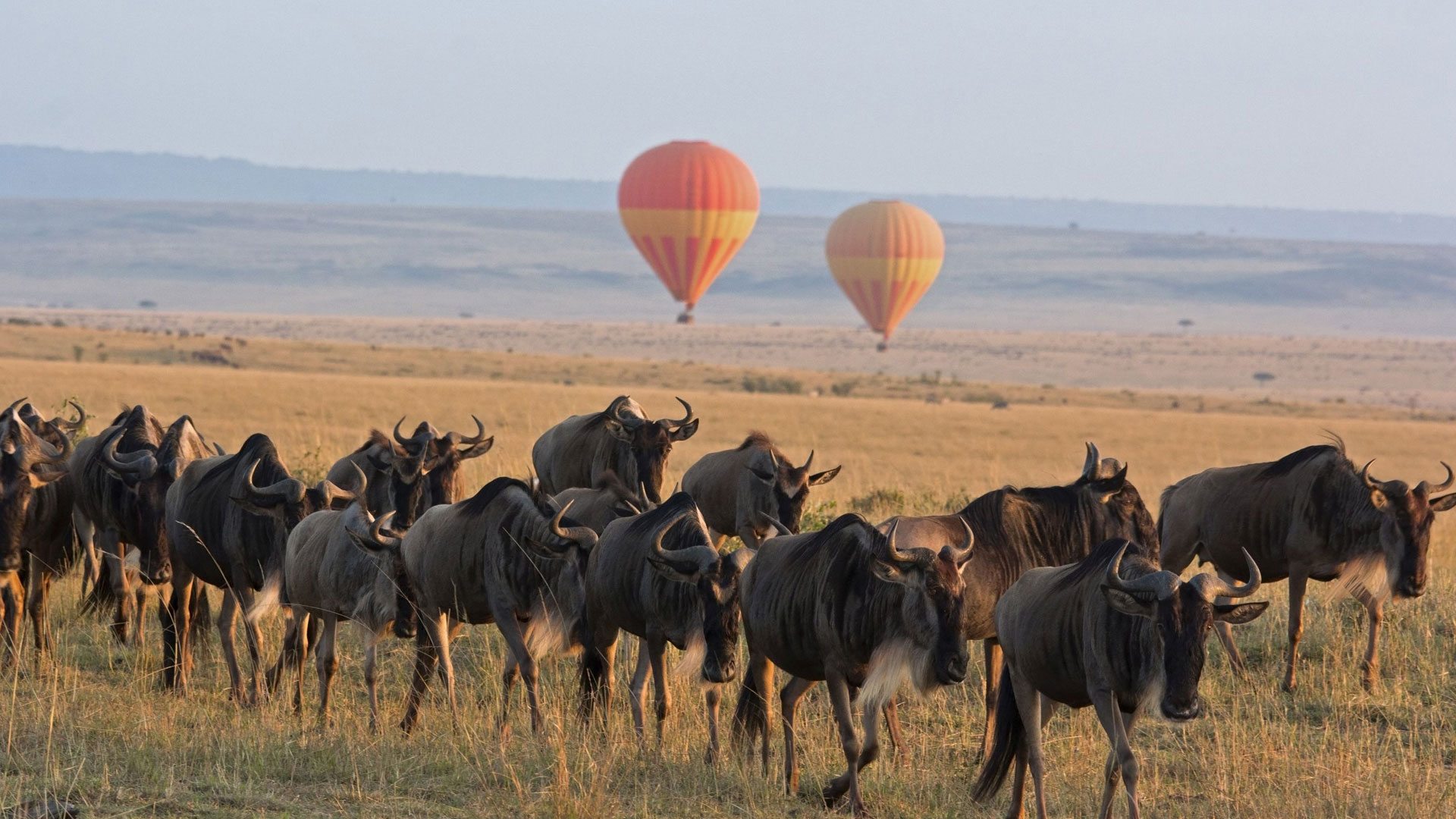 Enjoy a guided boat safari on the Rufiji River
Go on exciting game drives in Mikumi National Park
Take part in an exciting walking safari as well as night game safari
The southern circuit of Tanzania is getting more and more popular. Although it is less frequently visited than the northern circuit, it offers a similar variety of wildlife, varied landscapes, and culture.
The Nyerere National Park is the largest in Africa, approximately the size of Switzerland and is a vast open landscape with savanna plains, woodland, and many lakes and swamps in the Rufiji valley. It became a UNESCO World Heritage Site in 1982 due to its diversity of wildlife and undisturbed nature.
A guided boat trip on the Rufiji River will be arranged during which you will see many majestic birds, hippos, and crocodiles, probably elephants and, if you are lucky, a Nile monitor or a pride of lions coming down to drink.
Mikumi National Park can be visited in one day from Dar es Salaam, but if you have more time, this charming park is well worth a more extended visit. The vast expanses of the Mkata Floodplain are full of wildlife: lions, wildebeest, impala, eland, and buffalo migrate across the plains. In the Miombo woodland on the foothills of the local mountains, greater kudu and sable antelopes can be seen. More than 400 species of birds have been sighted in Mikumi.
We will also visit Udzungwa – the largest and most biologically diverse chain of forests in Tanzania. This archipelago of isolated massifs has been dubbed the Galapagos of Africa for its treasure trove of endemic plants and animals.
Known collectively as the Eastern Arch, the ancient crystalline mountains were formed more than 200 million years ago. Geological changes caused the rising of the central plateau, now the Tanzania/Kenya Highlands, and the formation of the Rift valley.
Conclusion Summary
Tanzania has three safari circuits, and each one of them, in its own right, would make Tanzania a top wildlife destination. The popular Northern circuit with the Serengeti and Ngorongoro Crater offers one of the best classical safaris in Africa, especially if timed with the annual wildebeest migration.