If you've gone on a Tanzania safari, chances are you've heard of the Big Five, the must-see list of iconic megafauna.
Lions, leopards, elephants, African buffalo, and rhinoceroses are "what people think of when they think of Africa and wildlife," says Natalia Borrego, a research associate at the University of Minnesota Lion Center.
The term, coined in the late 1800s during Africa's colonial period, refers to what trophy hunters considered the most challenging and dangerous animals to hunt on foot.
These animals are still hunted today, but a shift toward tourism has also made seeing the Big Five an "awe-inspiring" goal for any safari-goer, Borrego says.
Here are Big Five Animals in Tanzania in 2021
1. African Lion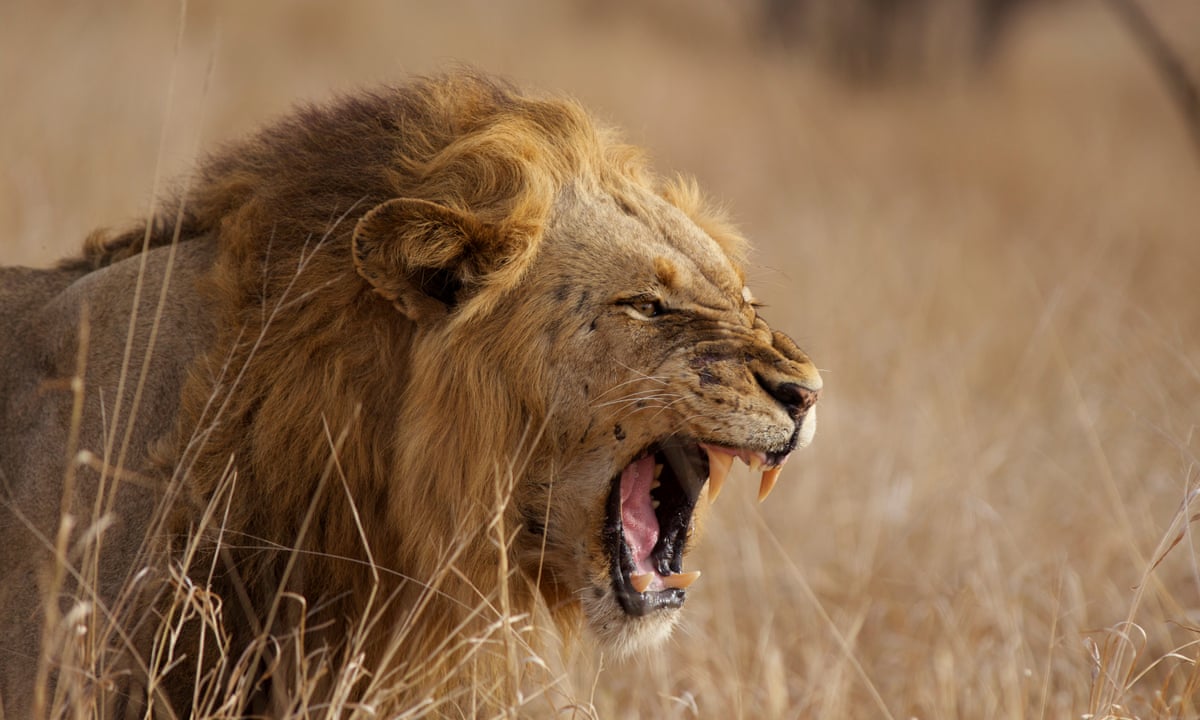 As the proverb goes, the king of the jungle is the Lion! These large cats can nature to weigh about 250kg and are probably among the most feared animals in the African wilderness.
There are around 16,000 lions in Tanzania. They are the apex predators, and their daily lives are quite fascinating for animal lovers. African lions are social animals and they live together in pride. Each pride has about 3 male lions, 6-12 female lionesses, and the lion cubs.
Usually, the lionesses are the ones that go hunting and feed the cubs. Male lions usually occupy and mark territory of their own, after conquering the apex alpha males that live in the area.
Where to see Lions: In Tanzania, you can see the lions in Serengeti National Park, Ngorongoro Crater, Lake Manyara National Park and Ruaha National Park.
Best time to see them: February – March, June – November (in the southern parks)
2. African Leopard
The leopard is the most elusive and mysterious of the Big Five, so a leopard sighting is the highlight of any safari! Both male and female leopards are solitary, except for when they mate.
This can happen up to every three months when a female comes into heat, but once the coupling is over the male returns to his territory and isolation. When hunting, leopards rely on closely stalking their prey. This method often ends in an ambush, differing from the hunting technique of lions, who rely on a burst of energy and speed.
Also, because they are solitary, leopards more often than not drag a kill up into a tree. There they can eat it and leave it for a number of days, undisturbed by irksome hyenas and even other predators, such as lions.
Where to see them: Leopards are best spotted in Serengeti National Park, Ngorongoro Crater, and Ruaha National Park.
Best time to see them: February – March, June – November (in the southern parks)
3. African Elephant
The African elephant is the world's largest land mammal, and you'll definitely see herds of these gentle giants on safari. Both male and female elephants have tusks, and, with few known predators outside of humans, elephants live an average of 60-70 years. Also, they've been known to eat up to 300 pounds of food in a single day!
There are two varieties of African elephant: the larger bush elephant you'll see on the plains, and the smaller forest elephant more common in Uganda and Rwanda. Both species are surprisingly good at hiding and can be quite aggressive if provoked.
Where to see them: African elephants can be seen at the Serengeti National Park, Ngorongoro Crater, Tarangire National Park and Ruaha National Park.
Best time to see them: February – March, June – November (in the southern parks)
4. Cape Buffalo
The lesser-known species out of the five on the list, the Cape buffalo are formidable animals thanks to their size, large herds, and horns. They may be active throughout the day and night.
On average, they spend 18 hours a day foraging and moving around in herds of up to 500 buffalos. Although they can be seen at Kruger National Park, the best place to spot the buffalo is actually on safaris in Kidepo Valley National Park, Uganda where up to 4,000 individuals gather at once making it a spectacular sight!
Often hunted by the lion, they are extremely loyal to its herd and would often try to rescue another member if they are caught by attacking the predator. Sometimes hunted by humans, they reportedly kill more hunters in Africa than other animals.
Something that you may not already know about them is that they have an excellent memory and known to ambush hunters that have wounded or injured them – even years after the incident.
Also known as the African Buffalo, the Cape buffalo is actually not closely related to the water buffalo (commonly found in Asia) though they do look somewhat similar to each other. Unlike the water buffalo, they are actually quite dangerous and has never known to be domesticated.
5. Black Rhinoceros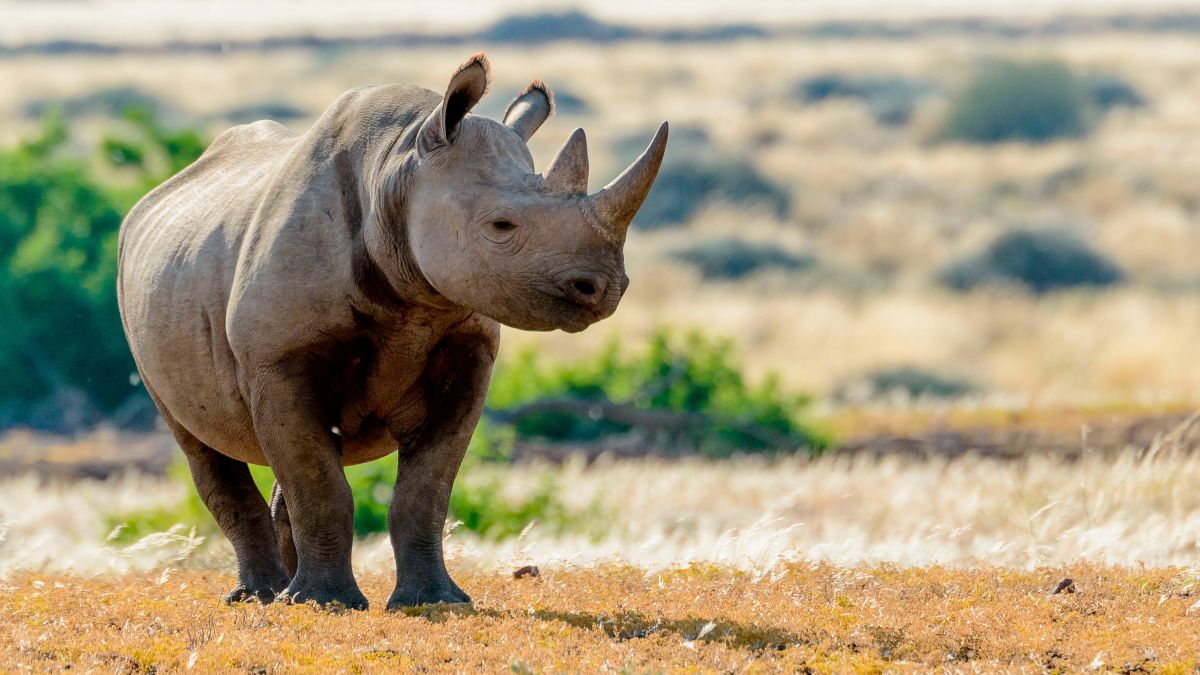 What makes the Black Rhinos stands out from its 'cousin' the white rhino are their double (two) horns. Their front horn (located just above their nose) is considered the prominent one. It may grow as much as 3 inches annually and up to five feet long.
This prominent horn is the main reason why this species is still poached. It is thought to have potent medicinal use and is often highly sought after in Asian countries such as China and Taiwan. Whereas in North Africa and the Middle East, it's usually sold as ornamental dagger handle.
With the exception of females and their offspring, the Black Rhinos are actually solitary creatures – preferring to live alone. They feed at night as well as during dawn and dusk. Their sustenance mainly comes from leaves and fruits found in trees and bushes.
You'd also be interested to know that rhinos actually have poor vision, they make it up with an excellent sense of smell and hearing.
Though its name refers to its colour as black, its actual colours vary from brown to grey. A native to Eastern and Southern Africa, unfortunately, this species is still one of the most hunted animals in Africa and it is the most endangered out of the Big Five animals.
In Summary
The Big Five define that ultimate Tanzania safari experience: seeing these impressive animals – lion, rhino, leopard, elephant and Cape buffalo – roaming freely in their own habitat is something you will never forget.
Here is a factoid: the term 'Big Five' was coined by big-game hunters and is not derived from the size of the animals. These animals proved to be the most difficult to hunt, mostly due to their ferocity when cornered.